What to do with the Problem Chin and Neck
The selfie has made all of us more aware of our aging faces. And what most people are unpleasantly surprised by is their chin! Some of us have too much fat in the area under our chins (double chin) . Some of us have loose skin in that area and into the neck (turkey neck). Some of us have both. So, what can you do about the problem chin and neck area?
Fat Only
If it is fat that is the problem, and you have good skin you can use Kybella.  Kybella is an injectable medication that breaks down the fat. Most patients will need two to three sessions a few weeks apart to treat the area. There is some swelling, tenderness and sometimes bruising following treatment with Kybella.
Another option is to do liposuction of the area. In most patients this can be done under local anesthesia. The recovery is similar to Kybella as far as swelling, tenderness and bruising. The advantage is that it is typically a one and done procedure as opposed to needing multiple treatment sessions with Kybella.
Skin Only
If you have loose skin but have no excess fat, or only moderate excess fat the minimally invasive treatment I recommend is ThermiTight. Thermight uses radio frequency energy delivered through a small wire that is  placed under the skin. This heat causes the skin to tighten over a period of a few months. It is done under local, and the downtime is similar to Kybella. For most patients only one treatment is needed.
For greater degrees of excess skin you may need to consider a face/neck lift.
Skin and Fat
If you have excess fat and skin, depending on the amount of excess, you can consider a combination of Liposuction and ThermiTight  or a Face/neck lift.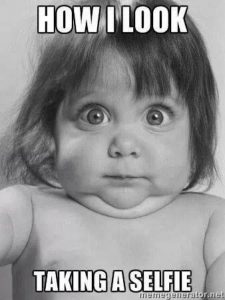 Don't let your chin get you down. There is almost always something you can do to improve your selfie face!
Sonya Merriman, M.D.