Skin Treatment Services Available for Valdosta, South Georgia and North Central Florida
At her plastic surgery center serving South Georgia and North Central Florida, a skin care specialist under the supervision of board-certified plastic surgeon Dr. Sonya J. Merriman provides specialized products and treatments designed to repair, restore and refine the skin.
With medical-grade products, it is possible to control acne flare-ups, eliminate hyperpigmentation (dark spots, pregnancy mask), reduce fine lines, shrink pores, build collagen and strengthen elasticity.
Services
---
Skin Peels
A chemical skin peel uses a chemical solution to improve and smooth the texture of the facial skin by removing its damaged outer layers. It is helpful for those individuals with facial blemishes, wrinkles, uneven skin pigmentation and acne. The precise formula used may be adjusted to meet each person's needs. Peels are a great way to maintain healthy skin and boost collagen production for more youthful, vibrant appearance.
Peels Offered:
Combination Peels
Glycolic Peel
Lactic Peel
Salicylic Peel
TCA Peel
Jessner's Peel
Laser Treatments
Skin Rejuvenation using M22 Technology. Precisely and safely target pigmented lesions such as freckles, sun spots and age spots. Vascular lesions such as spider vessels and redness from rosacea are also lightened and gradually fade. The total number of required treatment sessions depends on the skin's condition. This is a no "downtime" procedure. Most people return to normal activities immediately after treatment. Schedule your complimentary consultation with Amy to establish your personalized treatment.
Laser Hair Removal
Say goodbye to unwanted hair growth on all body areas including upper lip, cheeks, chin, neck, breasts, stomach, arms, underarms, bikini area, legs and back. We're proud to offer M22 laser machine to effectively and gently remove hair from all skin tones. Treatment costs vary depending on area. Schedule a complimentary consultation with Amy for more details.
Medical Grade
Skin Care Products
Dr. Merriman's aesthetician will work with you to determine which products will be most effective for your specific needs and concerns. A consistent skin care routine can enhance and help to maintain the effectiveness of any surgical or non invasive procedure you may have chosen for yourself. These medical-grade products are clinically proven and carry increased strengths that cannot be found in department stores.
---
Celluma
Light Therapy
Celluma is a comprehensive, low-level light therapy device that is specifically designed for pain management and skincare. In the same way that plants can convert chlorophyll to sunlight, this FDA-approved therapy uses high intensity light emitting diodes (LEDs) at specific wavelengths of light, which in turn trigger a natural response of repairing and replenishing of cells in human skin. In other words, the LED light source from a Celluma therapy gives compromised skin cells added energy, so the cells' performance is enhanced.
Research about Celluma has shown that this unique therapy can help with a variety of issues, and Celluma is proven to help:
Kill acne bacteria
Decrease inflammation
Increase circulation
Accelerate tissue repair
Improve skin clarity, texture, and tone
Ease muscle and joint pain, stiffness, spasm, and arthritis
Unlike other devices on the market that claim to use light energy to promote healing, Celluma is an all-in-one system that offers convenient solutions to help you manage your skin health, treat specific conditions, and accommodate different parts of the body.
ProCell Microneedling
Microneedling with growth factor serums by ProCell! Microneedling has become one of the most sought-after procedures in the country in the last few years. Come in and see what all the talk is about! Microneedling creates tiny perforations in the skin which initiate a natural healing response. These perforations cause a healing cascade that produces new collagen and elastin resulting in firmer, healthier skin. We combine this with our all-new microneedling solutions that are specifically formulated to trigger the collagen-producing cells in your body to go into overdrive and create permanent new healthy skin!
ProCell Microneedling tips were designed so there would be no risk of back flow of fluids causing cross contamination which has been a problem with the other "pen style" microneedling machines. ProCell larger sized tips also allow for a tapping, rather than a dragging, motion which creates a nice vertical pattern of micro-channels in the skin.
Dragging a pen across the skin is the only way smaller tips can treat larger areas more quickly, but it creates a "cat scratch" effect that has been nicely demonstrated in clay models. In the last few years, microneedling has made a huge splash because of how effective it is and how quickly it works. With as few as two treatments, microneedling has been shown to improve the appearance of wrinkles and fine lines, acne scars, age-spots/sun spots, and stretch marks. It can also help increase the effectiveness of topical hair growth serums.
---
The Perfect Derma Peel
Unlike other facial peels, The Perfect Derma Peel is a non-invasive, almost-painless treatment that has only 2 to 4 days of peeling associated with its application. This unique treatment combines powerful and effective ingredients together with acids that deliver serious results after a single treatment.
The Perfect Derma Peel promises:
Lifting of fine lines and wrinkles
Reduction in hyperpigmentation (including Melasma)
Minimal burning is associated with the application of the treatment
Can be used on all skin types, and for all ethnicities
Rejuvenation of tired skin
Requires no preconditioning prior to treatment
The Perfect Derma Peel takes approximately 15 minutes to apply, and the amount of peeling that results from the treatment is primarily on the epidermis layer on the skin. Peeling typically begins on day 3 post-treatment and is over by day 7. Results from The Perfect Derma Peel last for up to 6 months, and most people find that 2-4 treatments per year helps sustain desired results.
Products We Offer:
ZO Skin Health
Teoxane
Latisse
Tretinoin (Retin-A)
Jane Iredale Makeup
Lumenis
M22 IPL Photorejuvenation
Lumenis is a pioneer in aesthetic medicine and established the first Intense Pulsed Light (IPL) technology specifically to treat conditions related to skin damage caused by the sun. M22™ is a Modular Aesthetic Laser Multi-Application Platform; a device used in treatment of over 30 skin conditions and hair removal. Physicians around the world use this device to treat a vast variety of patients and conditions, all with excellent outcomes.
Photorejuvenation (also called a photofacial) uses light in an IPL technology that heals skin from within by absorbing melanin and oxyhemoglobin. This process encourages skin to heal itself through controlled direct impact on your skin cells. A Photorejuvenation procedure may be for you if you want to:
Manage a variety of skin conditions
Reduce the appearance of sun spots, fine lines and wrinkles, and age spots
Reduce pores and acne spots
Treat skin conditions connected to the effects of aging
Tackle redness and other signs of rosacea
This non-invasive, life-changing technology makes the skin on your face look more youthful, with little downtime and fast, effective results!
Lumenis M22 ResurFX
The Lumenis ResurFX is another function of the Lumenis M22™ device that uses a laser to achieve its results. Unlike other devices, the ResurFX is optimized for patient comfort as well as effectiveness, and is a non-ablative device. This means that the ResurFX stimulates the skin to develop collagen production without harming or ablating any of the skin it comes into contact with.
ResurFX may be for you if you want to:
Treat age and/or sun spots
Minimize fine lines and wrinkles
Eliminate stretch marks
Manage your skin tone, hyperpigmentation or discoloration
Decrease scars from acne
Tighten loose skin
ResurFX procedures require a single pass over the skin while using a topical anesthetic, and recovery time is short. While some redness or minor, sunburn-like irritation may occur, these effects typically subside after a few days. Many people find that 3-4 treatments spaced one month apart is enough to get them to the skin of their dreams, and your technician will work with you to determine the best plan for you and your skin's needs!
Meet our Aestheticians
Baylee and Grace
---
Baylee Crumpler
Licensed Medical Aesthetician
A native of Hazelhurst, Baylee received her aesthetics degree from Wiregrass Georgia Technical College and holds a Georgia state license in aesthetics. Baylee received her laser training from The Elaine Sterling Institute in Atlanta, GA, with certification in Laser Physics & Safety, Laser Hair Reduction, IPL, Skin Tightening, Vein Reduction, Hyperpigmentation, Fractional and Resurfacing Laser, Laser Hair Removal, Rosacea laser, Photo Facial Rejuvenation, and YAG laser treatments.
She also has extensive experience in skin care consultations, chemical peels, microdermabrasions, dermaplaning, facial waxing, steam facials, skin cleansing, facial scrubs and masks, dry ice, extractions, and spray tanning. Baylee has numerous certifications from Thermi, Alphaeon- Teoxane, ZO Skin Health, and Fantasy Tan spray tan.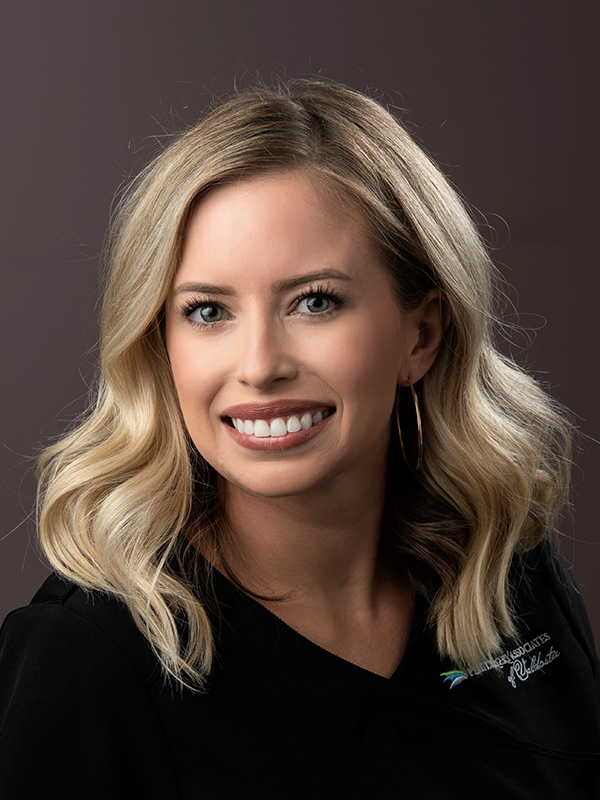 Melanie Hughes
Licensed Medical Aesthetician
A native of Cook County, Melanie received her aesthetics degree from Wiregrass Georgia Technical College and holds a Georgia state license in aesthetics.
Melanie alsoreceived her Advanced Medical Aesthetics certification from Institut DERMed College of Advanced Aesthetics. Melanie has extensive experience in skin care consultations, chemical peels, microdermabrasion, microneedling, PRP, rosacea laser treatments, IPL photofacials, resurfacing laser treatments, laser hair removal, dermaplaning, body sculpting treatments, tattoo removal, facial scrubs and masks, dry ice, extractions, spray tanning, and makeup applications. She has numerous certifications from Sciton, Alma Lasers, Coolsculpting, Ultherapy, ZO Skin Health, Skin Medica and Jane Iredale Mineral Cosmetics.
You will be treated with professionalism and kindness.
Meet with us and discover a clinic where we focus on creating natural-looking results in every procedure.
Alternate Phone: (229) 242-3002