Are you unhappy with the size, shape, or projection of your breasts? Breast augmentation surgery in Valdosta, GA can help increase your breast size or shape to make you feel happy and confident with your body.
As is true with any surgery, the skills of your plastic surgeon are a critical point, along with ability to listen, and fully understand your vision for your figure.
Types of Breast Implants
Breast implants in Valdosta, GA are available in more sizes and shapes than ever before. For a beautiful, natural-looking result, the first step is selecting the perfect size, shape, and type of implant to be the right fit for your body. The types of breast implants available include:
Silicone: Silicone breast implants have specific advantages. The silicone gel within the shell mimics the weight and feel of natural breast tissue. Silicone implants are available in a wide range of shapes and sizes, including:
Round implants
Gummy bear implants
Teardrop-shaped implants
Saline: Saline breast implants have an advantage – they are filled after being placed so the incisions required are smaller. The only drawback is that these implants feel slightly less natural than silicone. Should a saline implant rupture, it is very obvious, as the implant will deflate (the saline solution is naturally absorbed by the body without need for concern).
Your Breasts and
Your Self-Confidence
Many, many women struggle with breast issues. Our breast augmentation in Albany, GA does more than restore the body – it has a significant impact on your confidence in your body shape and appearance.
The issues that lead our patients to make the decision to have breast augmentation surgery include:
Breasts too small
Breasts have lost volume with weight loss or after pregnancy and breastfeeding
Breasts are too small to be in balance with the body shape
Asymmetrical breasts
Oddly-shaped breasts
Standard clothing sizes don't fit correctly
Breasts are sagging and droopy (often in conjunction with a breast lift)
Imagine the Difference…
Imagine yourself with beautiful, plump breasts that appear natural – that is what can be achieved with the help of Dr. Merriman, our board-certified plastic surgeon. As a female plastic surgeon, she has a deep insight into the concerns of women. Her approach is meticulous, caring, and professional.
About Breast Augmentation:
What You Need to Know.
Any surgery is a little frightening to consider. It is important that you understand the procedure and have a realistic concept about what to expect in the surgery, recovery, and final appearance. We take pride in educating our patients, so they are fully informed about every aspect of their breast augmentation in Valdosta, GA.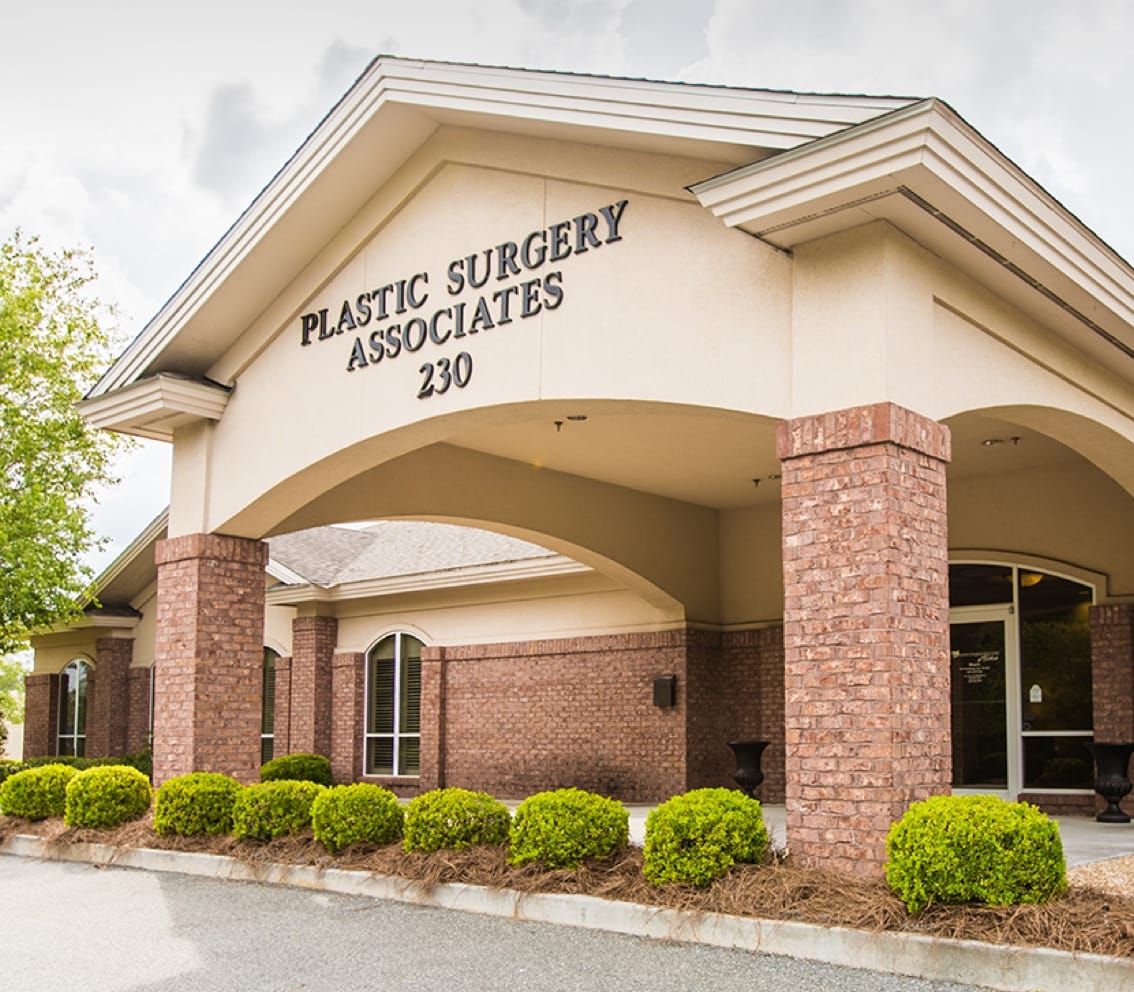 The Day of Breast
Augmentation Surgery
When you arrive on the day of your surgery, you should be dressed in loose, comfortable clothing, with button-up top for easy on and off. You will be greeted by our friendly team and prepped for surgery.
The procedure is performed under general anesthetic for your comfort. You won't remember undergoing surgery but will wake up in the recovery suite with your new breasts bandaged.
During the surgery itself, depending upon the type of implant, an incision will be made. The types of incisions include:
Periareolar:

An incision is made the edge of the colored part of your nipple structure (areola).

Inframammary:

An incision is made in the natural crease below your breasts, where once healed, it will be hidden from sight.

Transaxillary:

Only appropriate for saline implants, a transaxillary incision is made within the armpit fold.
The size and type of implant will determine the type of incision needed for your breast augmentation. How the implants are placed varies, based upon your anatomy and type of implants.
The options for placement include:
Submuscular:

When the implants are placed below the pectoral muscles, often used for saline implants.

Subglandular:

The implants are placed directly behind your existing breast tissue.
All of these issues will be fully explained to you prior to your surgery so you are informed and know what to expect at every stage, including recovery so you are satisfied with your breast implants in Albany, GA.
Recovery from Breast
Augmentation Surgery
While every patient recovers at a slightly different rate, a typical recovery from your Waycross, GA breast implants will require several hours to complete. When the surgery is completed, your new breasts are wrapped in gauze bandages and a surgical bra. This keeps the area firm and restricted from motion – important in healing properly.
You will have a short period to recover and fully regain consciousness after surgery. Once you feel strong enough, you will be released to return to your home – but you must have help from a friend or family member. You will not be in a condition to be able to drive, and will feel very tired, and still slightly groggy from the anesthesia.
Once home, you will want to rest. Initially, you will not experience any pain, but as the anesthesia wears off, you will feel discomfort at the incision sites and a sensation of tightness.
Expect to take two to three weeks away from your usual activities. Sleep with extra pillows or a wedge to keep your upper body elevated. You cannot sleep on your side during the early stages of healing, as no pressure or stress can be put on the implants or incision sites.
Plan to have someone stay with you the first night. You will have prescription pain medication to help you with the first few days of healing. Ensure you have the prescription filled before your surgery and have everything you need at hand by your bed.
You will have a follow-up appointment with Dr. Merriman to ensure you are feeling well and the incisions are healing as they should. We are always available to answer any questions or concerns during your recovery – we care about our patients throughout every phase, including recovery.
You will be treated with professionalism and kindness.
Meet with us and discover a clinic where we focus on creating natural-looking results in every procedure.
Alternate Phone: (229) 242-3002