Non Surgical Fat Loss with SculpSure
Isn't it time to love your shape? How would you like to do that with no surgery, no downtime, no restrictions and no pain. I am always on the look out for technology that works and offers something that our patients want. I know you will be as excited as I am about SculpSure.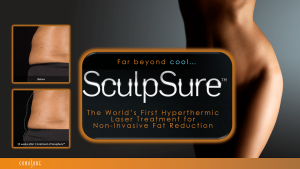 SculpSure is a noninvasive fat removal treatment that helps reduces stubborn areas of fat in a 25 minute session. It works best on patients who are overall happy with their size, but have problem areas that don't go away with diet and exercise. We all have areas where our body likes to store and display even the smallest amount of excess fat. Common problem areas are the abdomen, flanks (love handles), outer thighs, inner thighs, bra roll etc.  SculpSure is FDA approved for treatment of the abdomen and flanks, but can be used "off label" for other stubborn areas too.
Four applicators can be used during one 25 minute session and can be placed to target your problem areas. If you need more that 4 applicators to cover you areas of concern a second round can be done immediately after the first set is removed. The applicators are placed flat on the skin so you do not have to pinch the tissue between plates like cryolipolysis (Coolsculpting) requires. This allows us to customize the treatments and eliminates bruising and nerve pain that can be seen with cryolipolysis.
Most patients find the procedure comfortable or only mildly uncomfortable. The laser delivers energy that feels like alternating hot and cold. There is no downtime after the procedure and no pain after the procedure. You may have some mild swelling and tenderness.
Some patients start seeing results in 2 weeks, but it takes 12 weeks for you body to absorb all of the fat that has been targeted. The fat loss is permanent.  Once you see your results from the treatment, if you want further fat reduction in that area, it can be retreated a few weeks later.  You decide when your results are enough. On average patients see a reduction of the area treated by 24% for each treatment
All skin types can be treated. The treatment is safe for darker skin.
So, if you have stubborn fat that you want to get rid of, don't have the time for recovery from liposuction, or don't want to risk the possibility  of prolonged nerve pain that can result from cryolipolysis, SculpSure is a great alternative.
Please join us on Thursday, November 17th, for our One-Day SculpSure® VIP Special Event from 3:30-6:30pm at Plastic Surgery Associates of Valdosta!
Call us today at 229.242.3002 to reserve your SculpSure® consultation appointment on Thursday, November 17th with Dr. Sonya Merriman & Pam Chaney, R.N.
                                                                    ~We will be offering VIP special pricing & giveaways as well as sweets, treats & cocktails!~
Sonya Merriman, M.D.